Stay warm and safe this weekend. We can't wait to see you on Tuesday, January 18!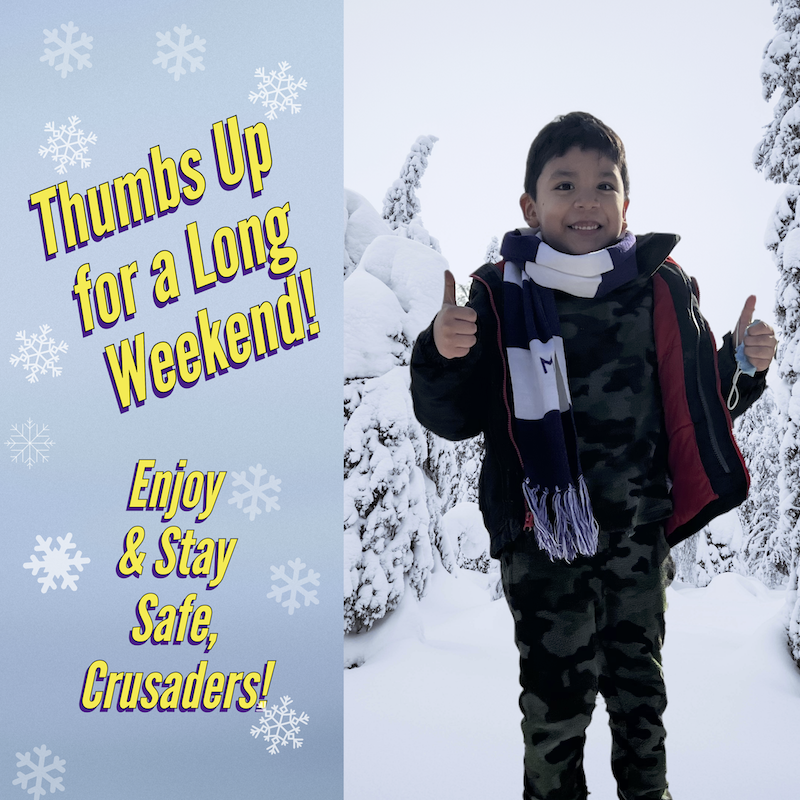 REMINDER: Distribution of student COVID-19 test kits will take place today, 1/14/22, from 10 a.m. - 2 p.m. at the MWCSD Education Center, 278 Route 32, Central Valley. Parents/guardians are asked to please bring a photo ID to confirm student information. Thank you!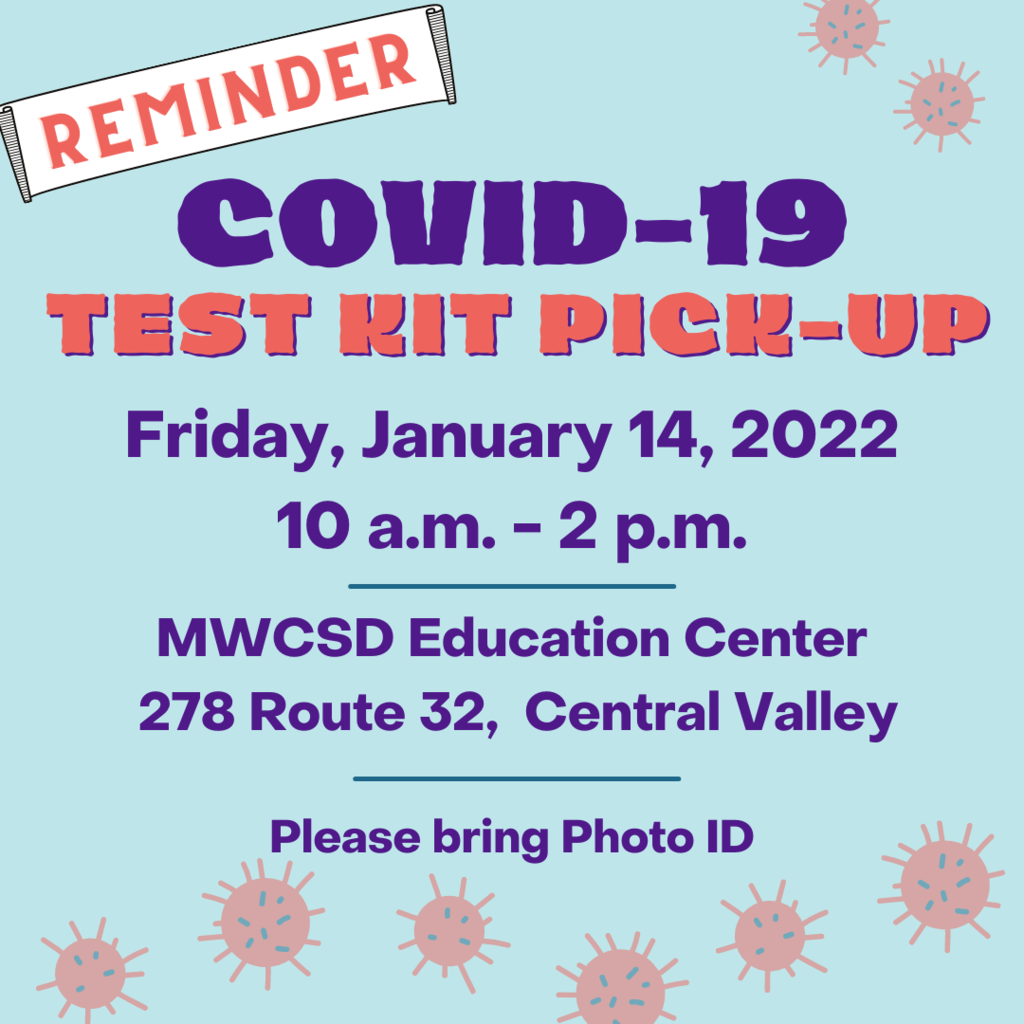 Let's celebrate the end of the school week (and the start of a long weekend) by giving Maureen Burt a huge shout out! Thank you, Ms. Burt, for taking the time to get to know your students and for showering them with compassion and care. We celebrate you and your Crusader spirit!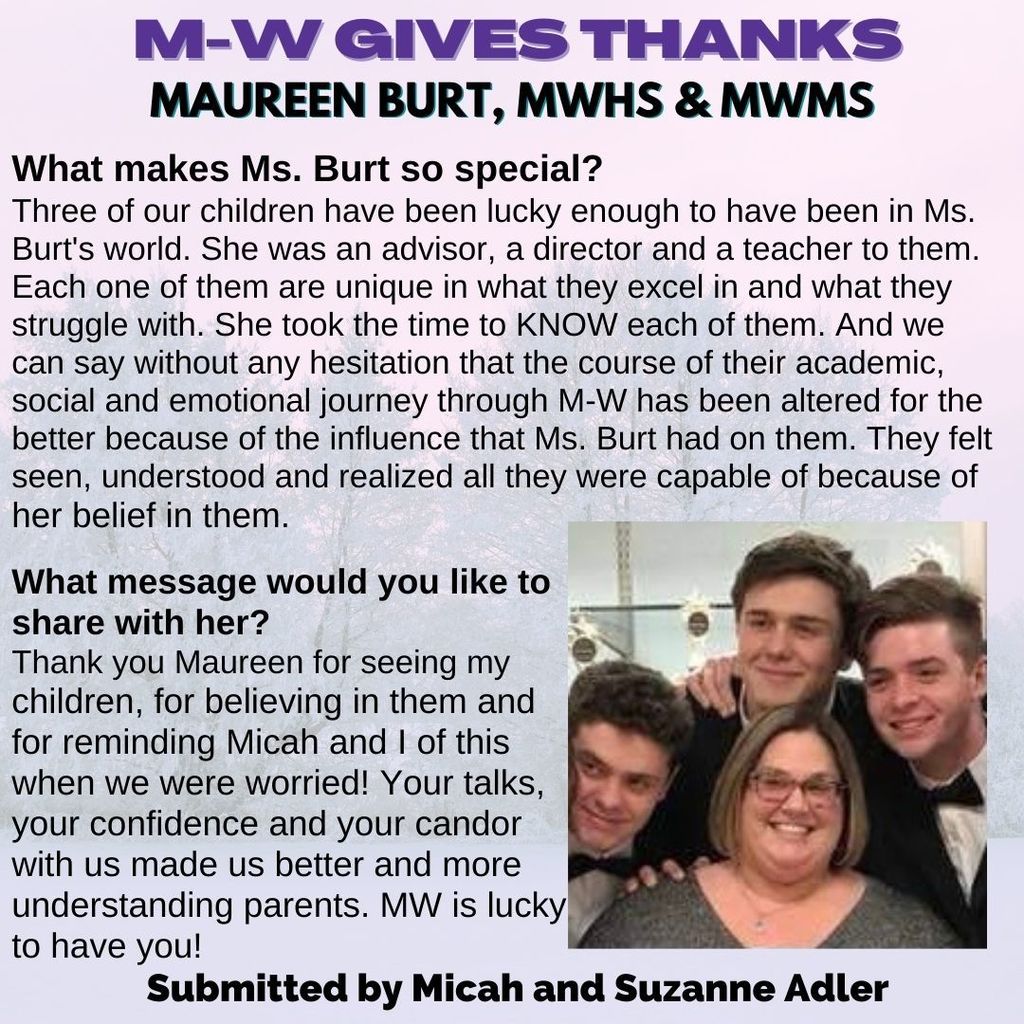 Important message from the M-W Food Services Department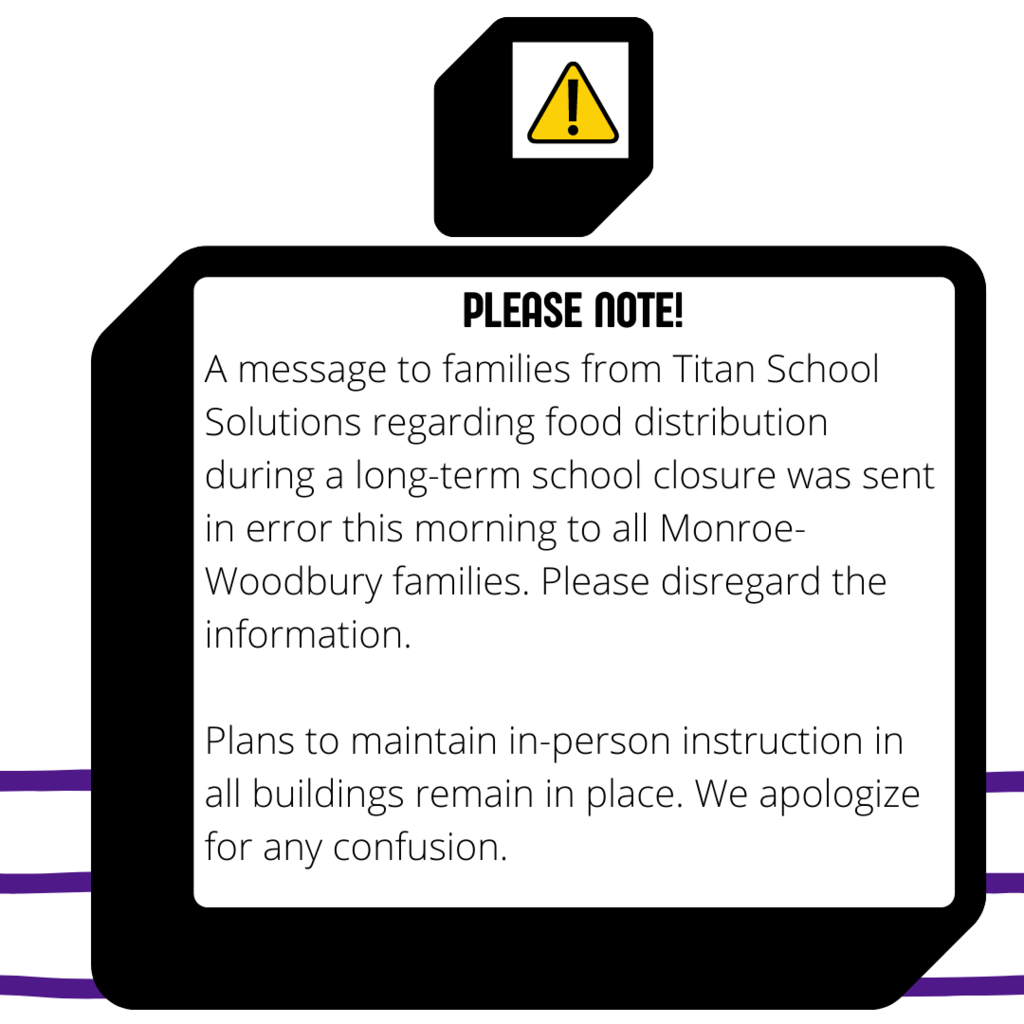 Today we recognize Pine Tree Elementary nurses Renee Vernola and Margaret Summers for their ongoing compassion and care. Thank you, Mrs. Vernola and Mrs. Summers, for helping M-W stay happy and healthy everyday!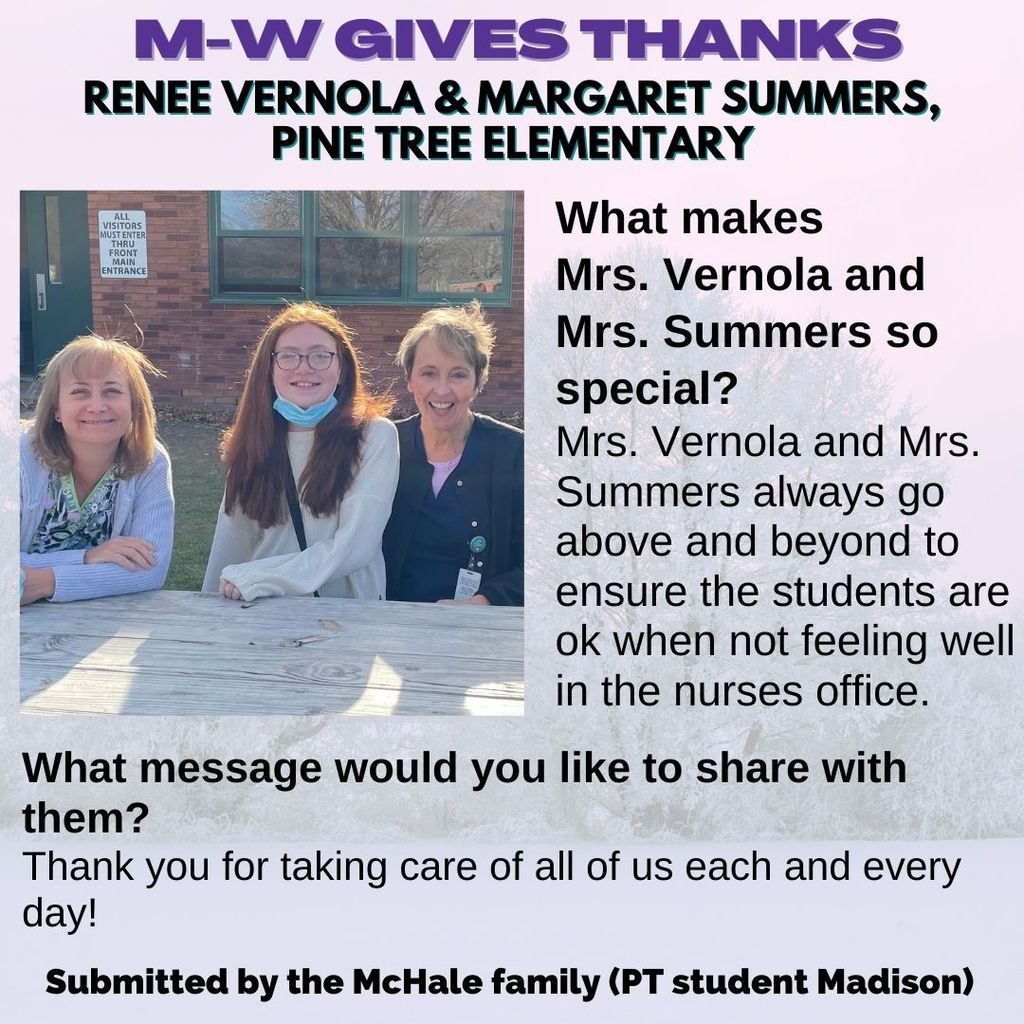 M-W schools closed - Friday, January 7, 2022 - Based on weather forecasts calling for periods of heavy snow resulting in ice and snow covered roads overnight and tomorrow morning, all Monroe-Woodbury schools and offices will be closed on Friday, January 7, 2022. There will be no in-person or remote instruction and all after school activities are canceled. Transportation will not be available for out-of-district students. We are hoping that this advance notification will allow families time to make necessary arrangements. Stay safe and warm and enjoy the weekend.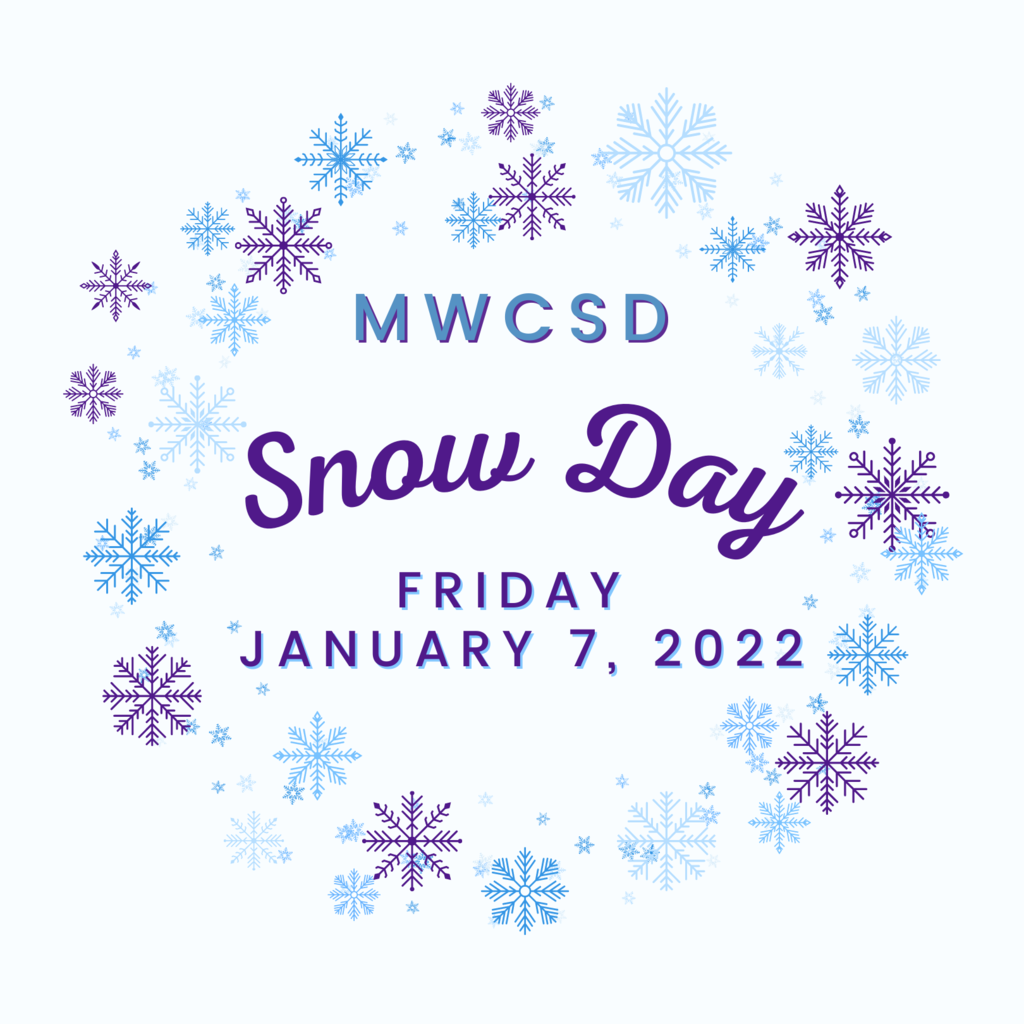 Community Swim is canceled due to pool maintenance on the following dates: Tuesday, January 4 Friday, January 7 Sunday, January 9 Stay tuned for updates. Thank you for your understanding.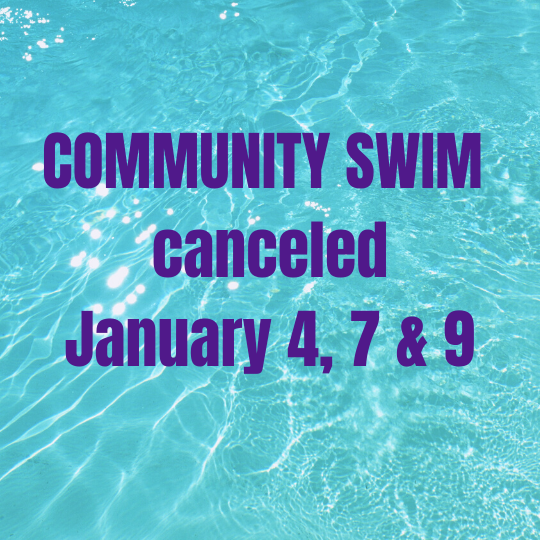 Monday, January 3, 2022, is now a Superintendent's Conference Day. Students have the day off from school and staff should report to buildings. Please visit the district website for more information. Happy New Year, M-W!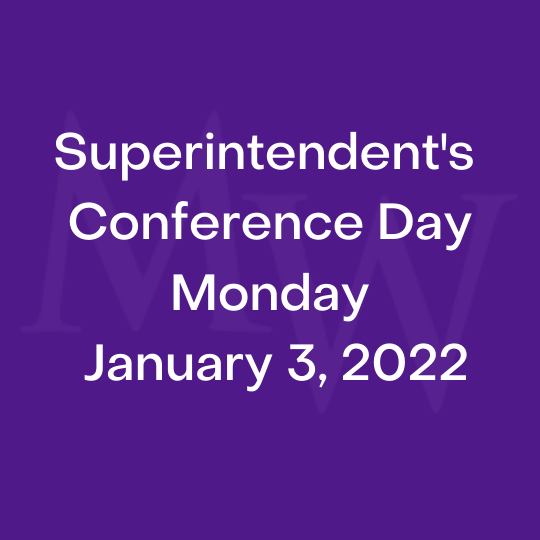 We've got the spirit, yes we do. We've got the spirit, how about you? North Main is celebrating in style. Winter break is right around the corner!

There is still time! MWHS is holding a holiday food drive to help families in need. Non-perishable food items can be dropped off at the high school through December 22. Thank you for helping brighten the holidays for M-W families.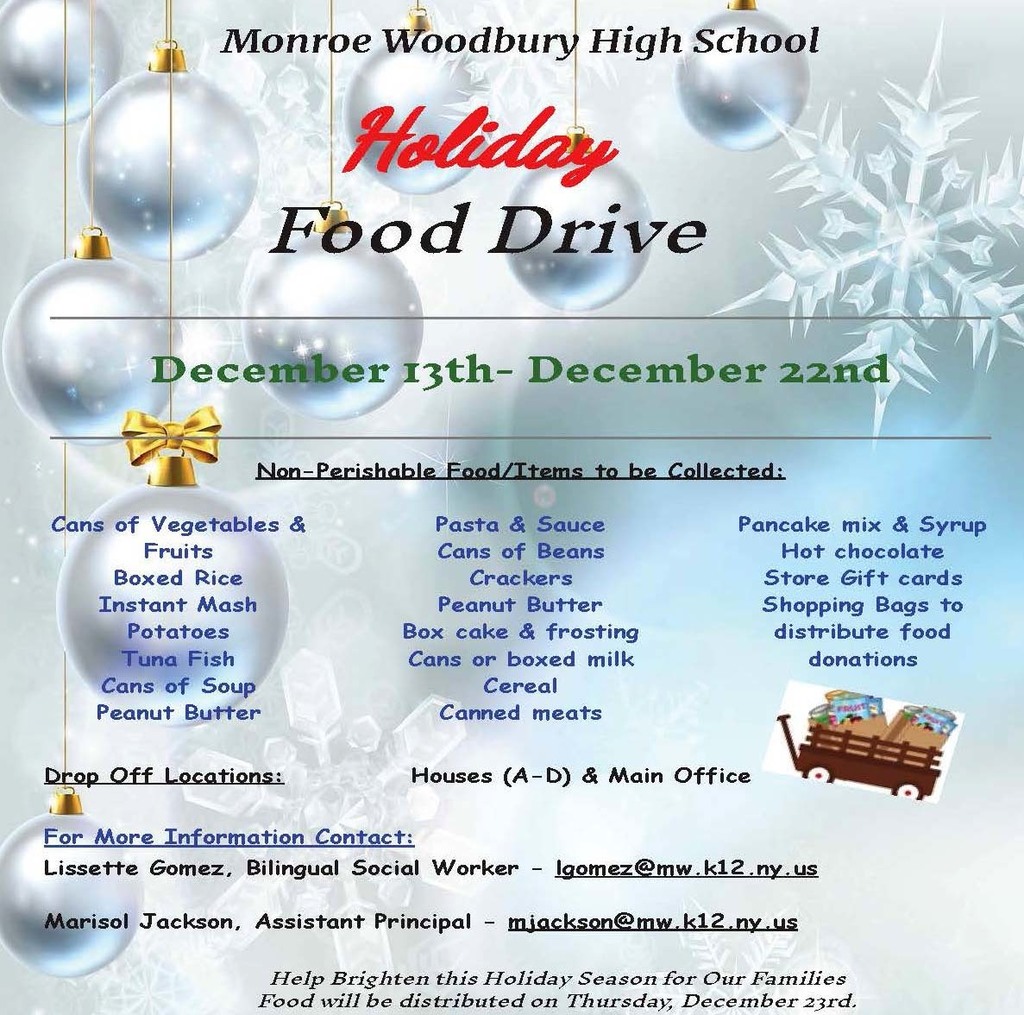 Today we recognize North Main teacher Mrs. Heidi Kassel , who was nominated for our spotlight feature by the Gerych family. Check out NEWS on the district website to read more about Mrs. Kassel. Stay tuned as we share more stories about our amazing school family!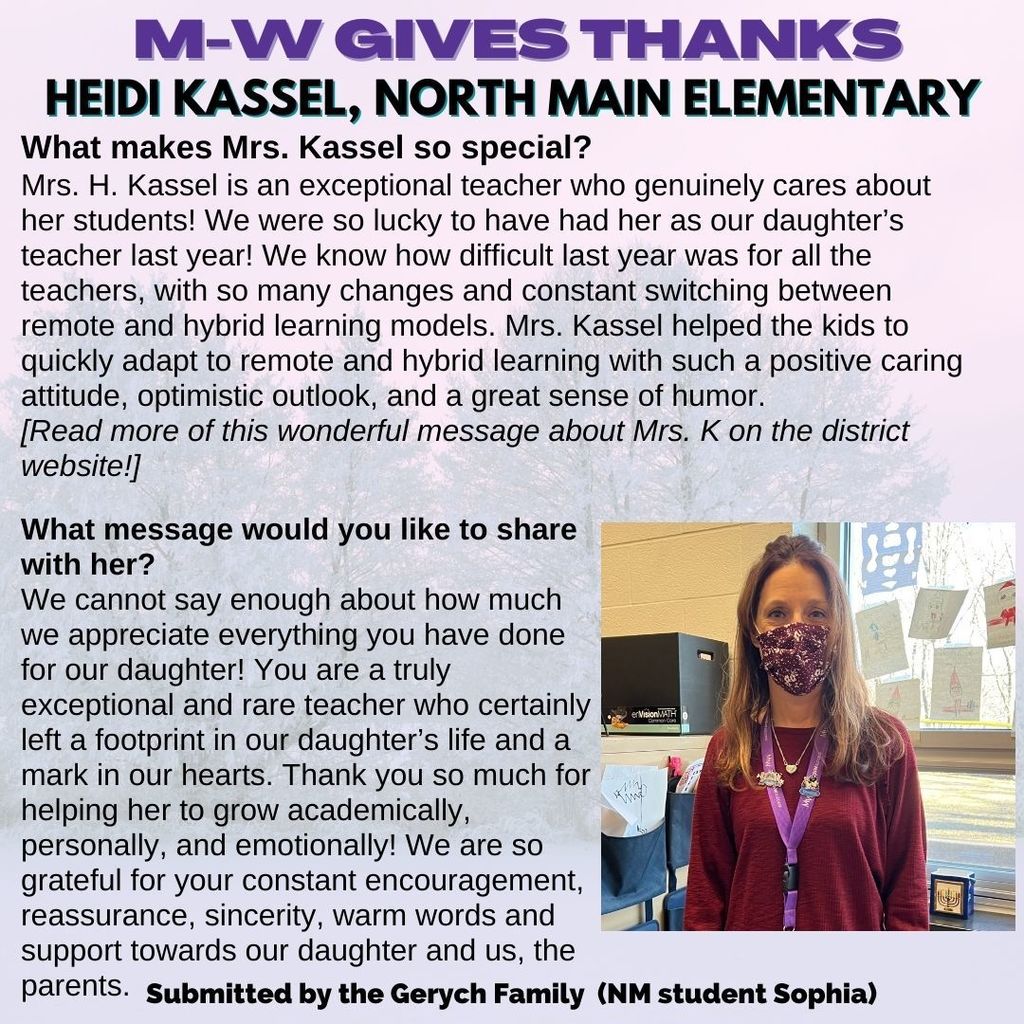 YES, Crusaders! Congrats to all 8 of our Varsity teams who earned the New York State Public High School Athletic Association's "SCHOLAR-ATHLETE TEAM" recognition. We are strong in the classroom AND on the fields/courts/pool. Way to go!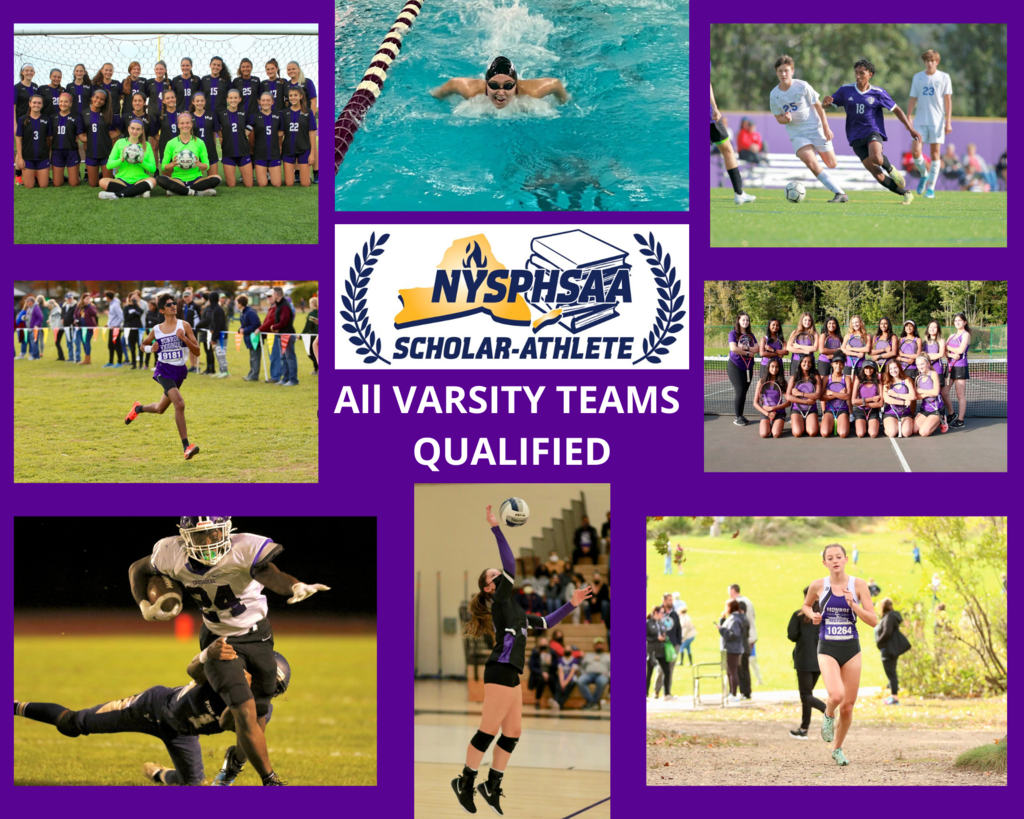 The convoy is expected to arrive in M-W at 3:15 p.m. Ceremony will begin at approximately 3:30 p.m.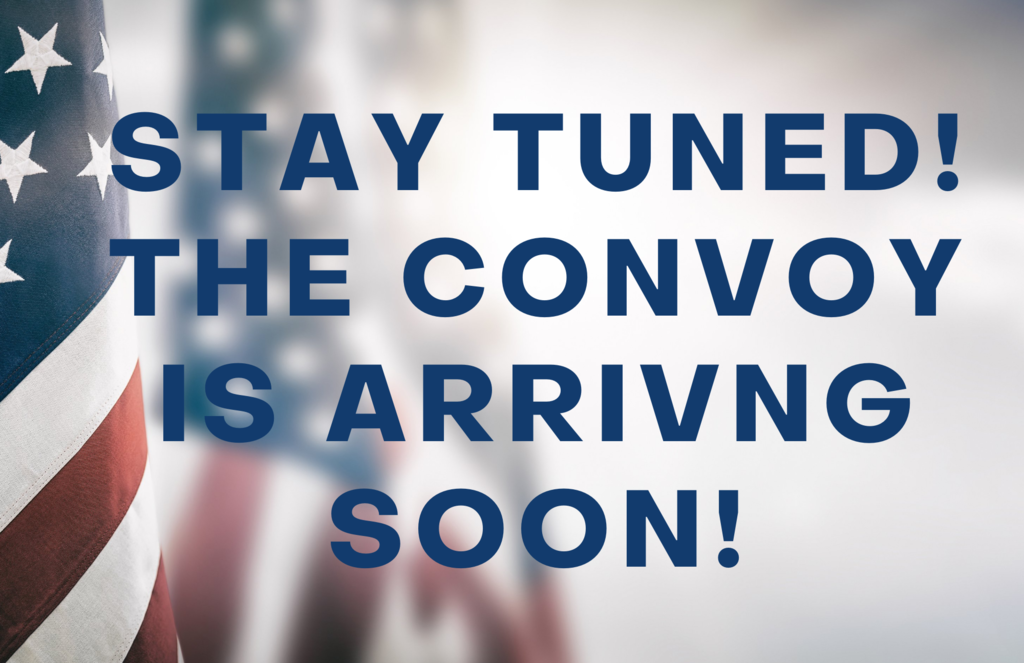 Unfortunately Amazon's widespread issues have impacted the district's internet service and livestream capabilities . We are concerned that the virtual Town Hall meeting scheduled for this evening via livestream may be interrupted due to lingering connectivity issues. As a precaution, we have decided to postpone the virtual Town Hall meeting until Tuesday, December 14, at 5:30 p.m. Thank you to the M-W families who have already completed the online questionnaire. Your questions and concerns are important to us and the district leadership team looks forward to a thoughtful dialogue next week. The link to the livestream will be emailed to families prior to the Town Hall meeting and will be available on the district website. Thank you for your understanding.

Due to a countywide internet outage, Monroe-Woodbury Grades 2-5 Virtual Parent-Teacher Conferences are canceled this evening, Tuesday, December 7, 2021. More information regarding a rescheduled date and time will be shared by building principals. Thank you for your understanding.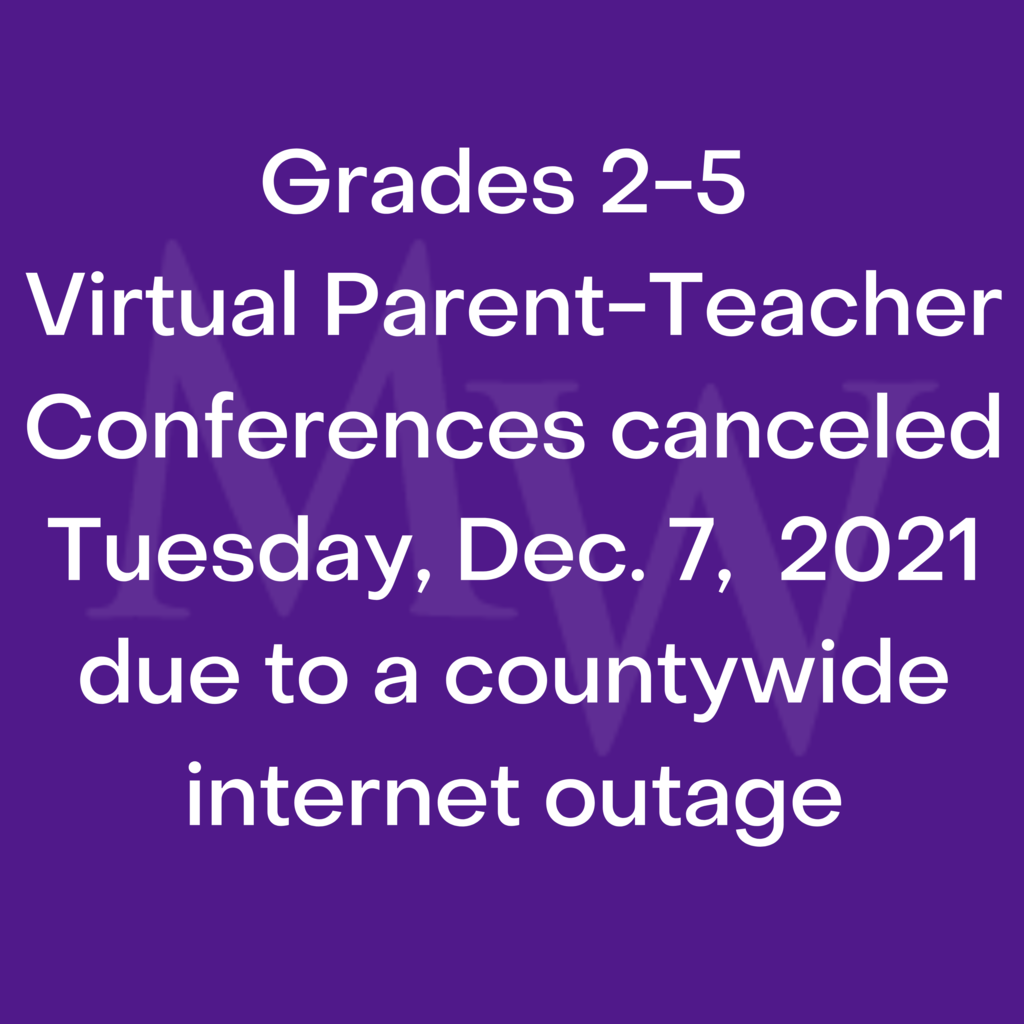 Tonight is the 6th Annual M-W Hockey Winter Classic at 6 p.m. at Bear Mountain Ice Rink. It promises to be an action packed game as our Crusaders take on North Rockland. Admission is unwrapped toy that will be given to Maria Fareri Children's Hospital. Hope to see you there!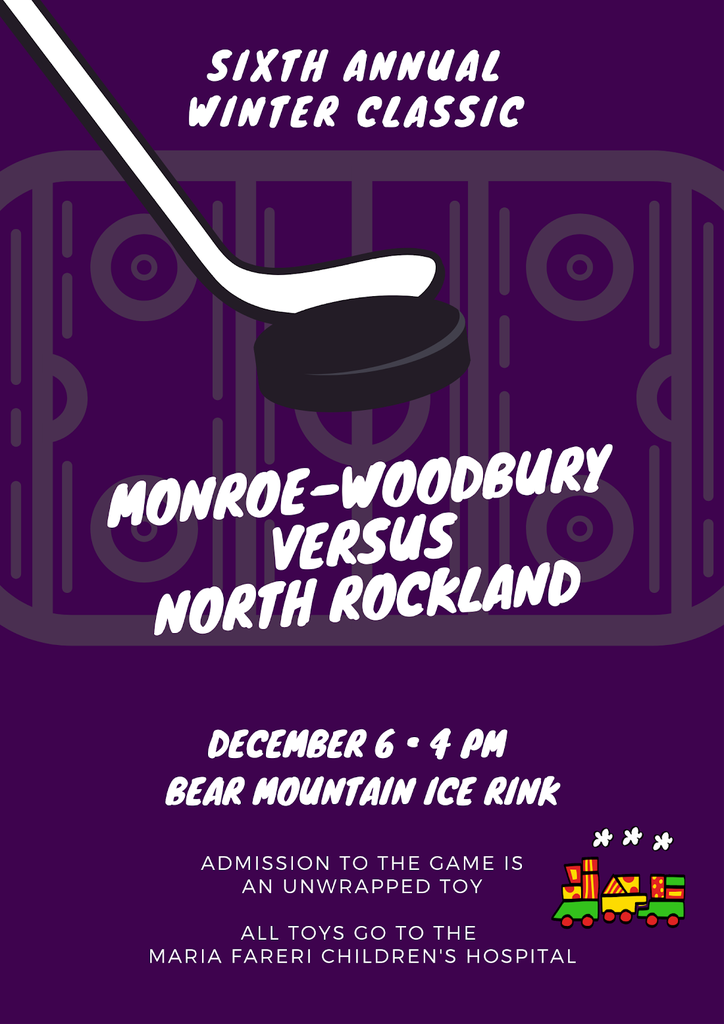 While you're getting your shopping done at Woodbury Common, stop by Market Hall and the M-W Whoville elves will wrap presents for you. "Wrapping in Whoville" is a fundraiser for the Class of 2022 All Night Graduation Party. Presents are wrapped at no charge. Donations are greatly appreciated! M-W Elves will be wrapping on the following days from 12 p.m. - 6 p.m. December 4 & 5 December 11 & 12 December 18 & 19

REMINDER: Friday, December 3 is an early dismissal day for Parent Teacher Conferences Dismissal will take place on the following schedule: M-W High School – 10:30 a.m. dismissal M-W Middle School – 11:37 a.m. dismissal Sapphire and Smith Clove (K-1) – 11:45 a.m. dismissal - Please note: Pre-K students' pick up will be from 11:05-11:15 am Central Valley, North Main, Pine Tree – 12:45 p.m. dismissal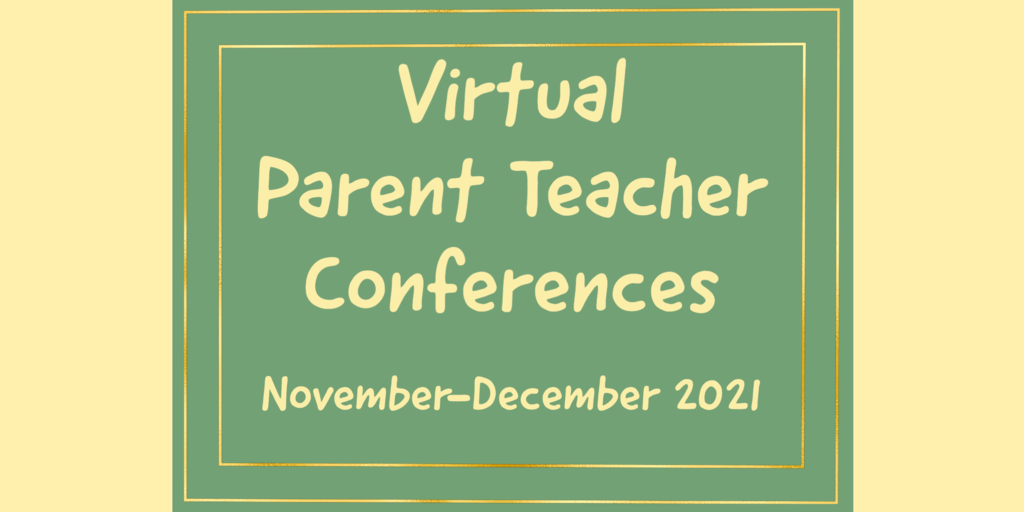 Remember to wear PURPLE or BLACK tomorrow - Thursday, December 2! M-W commemorates National Special Education Day in honor of Crusaders with disabilities and the educators who support them. We've dressed in gold, pink and red this fall, so let's do one more! December 2 is the anniversary of the creation of the Disabilities Education Act (IDEA) which made public education available to all students regardless of ability.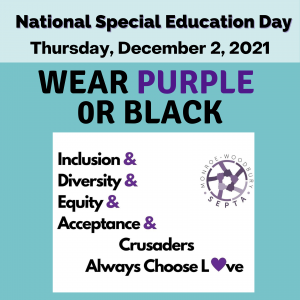 Crusaders commemorate National Special Education Day - Thursday, December 2 - Wear purple or black! On Thursday, December 2, members of the Monroe-Woodbury community are invited to wear purple or black to commemorate National Special Education Day in honor of Crusaders with disabilities and the educators support them. December 2 is the anniversary of the creation of the Individuals with Disabilities Education Act (IDEA), which made public education available to all eligible students. IDEA ensures that special education and related services are provided for those students. It was the first and most important step in creating the path of equity in education and resources for all students.